Nursing School Interview Questions
When you apply to nursing school, such as an ABSN program, you may be invited for an interview. Some common nursing school interview questions center on topics such as time management, adaptability and teamwork. These questions are designed to see if you might be a good fit for the program.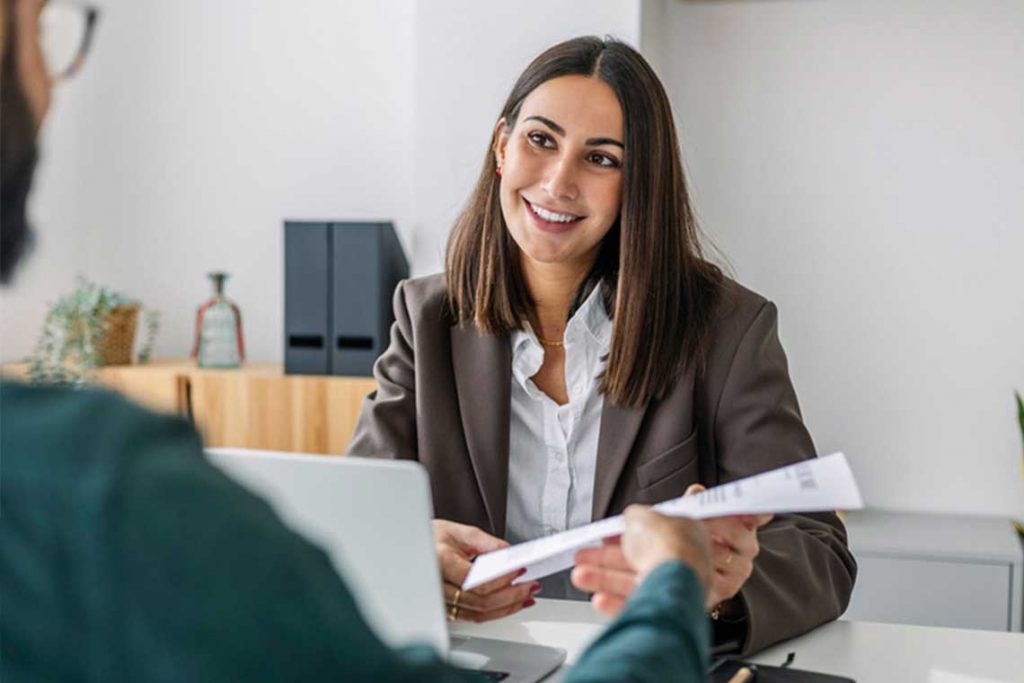 Not all nurses take the same path to the health care field. If you previously earned or worked toward a non-nursing degree but then decided a career in nursing is a better fit, you can pursue your dreams with Harding University. The accelerated Bachelor of Science in nursing program is available to eligible applicants with non-nursing credits. It provides a faster pathway to a nursing career.
Before you start nursing school, however, you'll need to navigate the admissions process. Part of that process may include a nursing school interview, during which you'll meet with an admissions counselor to discuss the program and your aspirations of becoming a nurse. Here are some common nursing school interview questions and some quick nursing school interview tips to follow.
How Important Are Nursing School Interview Questions?
Although every nursing school operates a little differently, they will generally review application materials before contacting qualified candidates to offer an interview. Since applicants and their qualifications often look similar on paper, the nursing school interview is your opportunity to stand out from the crowd. Making a good impression is essential to increase your chances of admission to the program.
A nursing school interview will proceed in much the same way as a job interview. The admissions counselor will review your application materials and ask questions about your background, character traits and desire to become a nurse. You'll also have the opportunity to ask questions of your own. To make a good impression, try to convey confidence. You'll also want to communicate your passion about nursing and enthusiasm for the school.
Nursing Interview Questions and Answers
Although you shouldn't commit answers to memory, it's a good idea to have a general sense of how you might respond to common nursing school interview questions. Below you can learn how to prepare for nursing interview topics. Additionally, you should reflect upon why you want to become a nurse and why you want to attend that particular nursing school.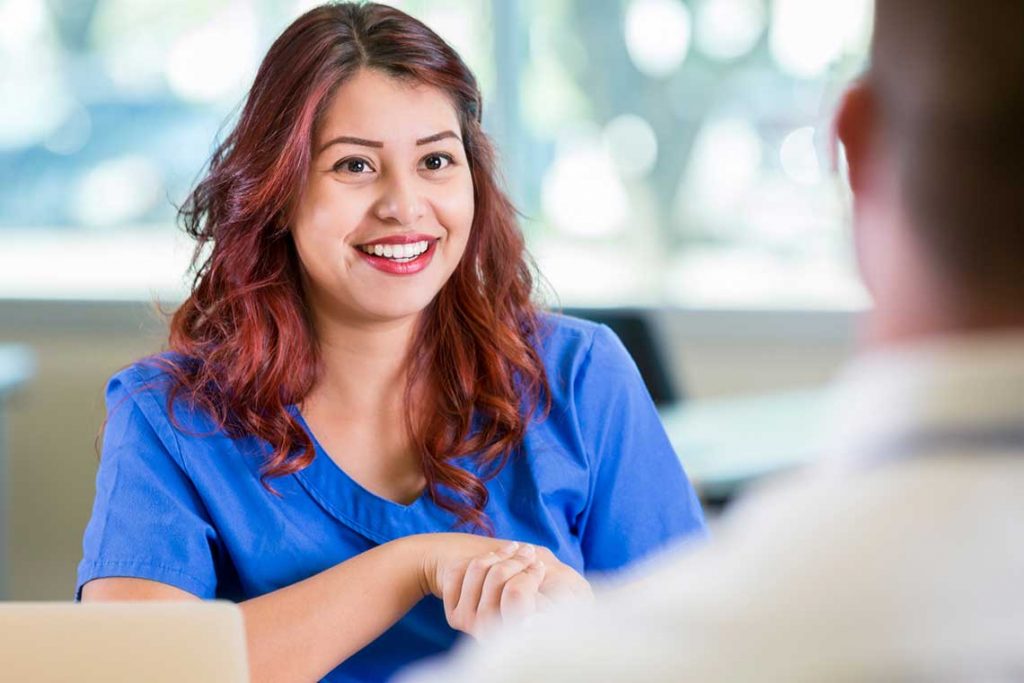 Questions about Teamwork
It's vitally important that nursing students and registered nurses know how to function well as collaborative team members. As a nursing student, you'll be working with other members of your cohort on nursing simulations and labs. As a future RN, you'll work with other nurses and health care providers to ensure each patient receives the best possible care. Here are some teamwork-related questions you may be asked during your nursing school interview.
Did you participate in any clubs in school? If so, what did you learn from them?
Clubs and other extracurricular activities are significant because they indicate whether someone is more likely to be a team player with strong interpersonal skills. If you did participate in extracurricular activities, discuss them briefly and explain a few things you learned. (Hint: When discussing what you learned, focus on character traits and soft skills.) If you didn't participate in extracurriculars, you might say you primarily focused on academics. Then, discuss other ways you worked as part of a team. For instance, perhaps you worked on a Habitat for Humanity or other community service project.
Have you ever had to work with a difficult person or coworker? How did you approach it?
It's important to avoid demeaning people during any interview. You can briefly explain the situation and why the person was challenging. Then, find the silver lining. What did you learn? How were you able to work with this person?
Questions about Adaptability
Nursing is a high-stress job that requires professionals to be highly flexible and able to adapt to shifting circumstances and priorities. Since the field itself is continuously evolving, nurses must embrace change. Nursing school interview questions about adaptability will explore whether the program and the career might be a good fit.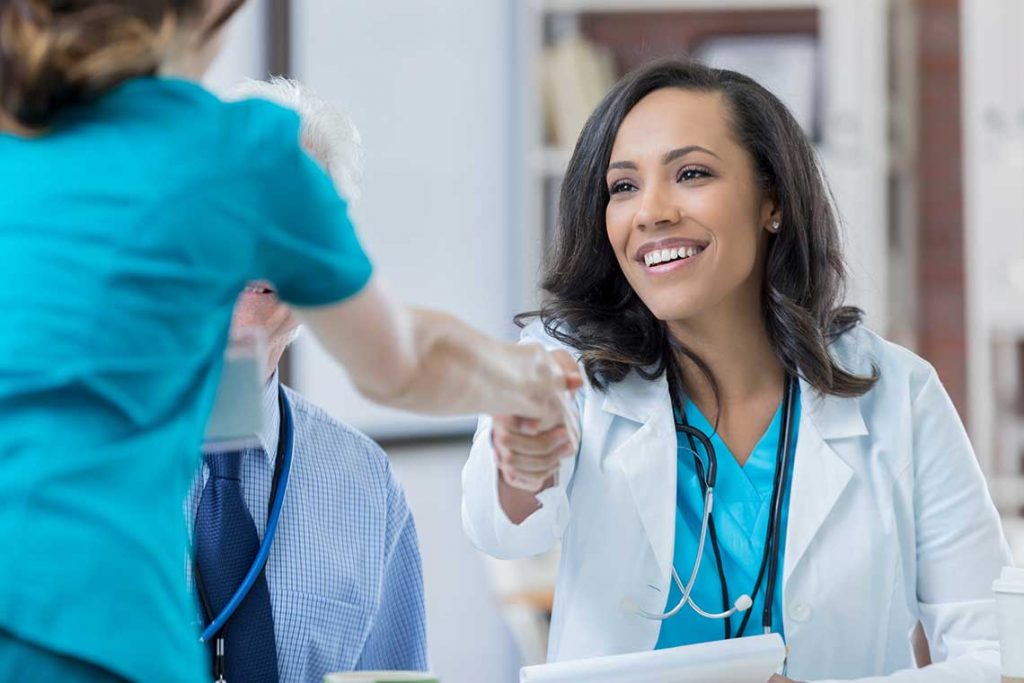 Discuss a time when you were under a great deal of stress. How did you cope with it?
This is a fairly open-ended question. You could describe a stressful time in high school or college or while working at a job (health care-related or otherwise). You could explain the steps you took to deal with the situation and discuss what you learned from it.
Discuss a time when you failed at something.
Everyone fails from time to time. It's only human, and no one is expected to be perfect. If you've previously worked in a health care-related position, it's ideal to discuss a failure in this environment. Explain what you learned and express confidence that you can continually work toward improvement.
Questions about Time Management
Time management is critical — both for nursing students and working RNs. As a nursing student, you'll be juggling classes, labs, assignments, study time and clinical placements while also working to prepare for the NCLEX-RN licensure exam. As a working nurse, you'll need excellent time management skills to ensure that each patient under your care receives the attention he or she needs. Look at the following nursing interview questions and answers related to time management.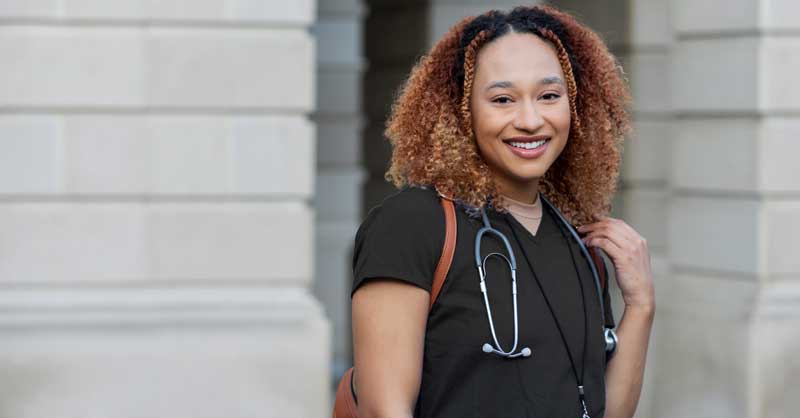 Discuss a time when you worked in a fast-paced job. How did you handle it?
This nursing school interview question is intended to determine how well nursing school applicants can prioritize tasks — a vital skill for nurses. You might answer this question by first describing the situation and then discussing how you prioritized tasks. For example, let's say you've worked as a certified nursing assistant. You may have developed an overall to-do list for each patient, and you may have organized it by putting the most urgent and vital tasks at the top.
Describe a time when you felt overwhelmed by your workload. What did you do to address the issue?
Everyone feels overwhelmed from time to time. This type of question is engineered to determine whether you're the type of person who knows when to ask for help. Discuss a situation or a time when you had more work than you could handle and explain how you asked others for help. Discuss how you delegated tasks to other individuals.
Questions That You Could Ask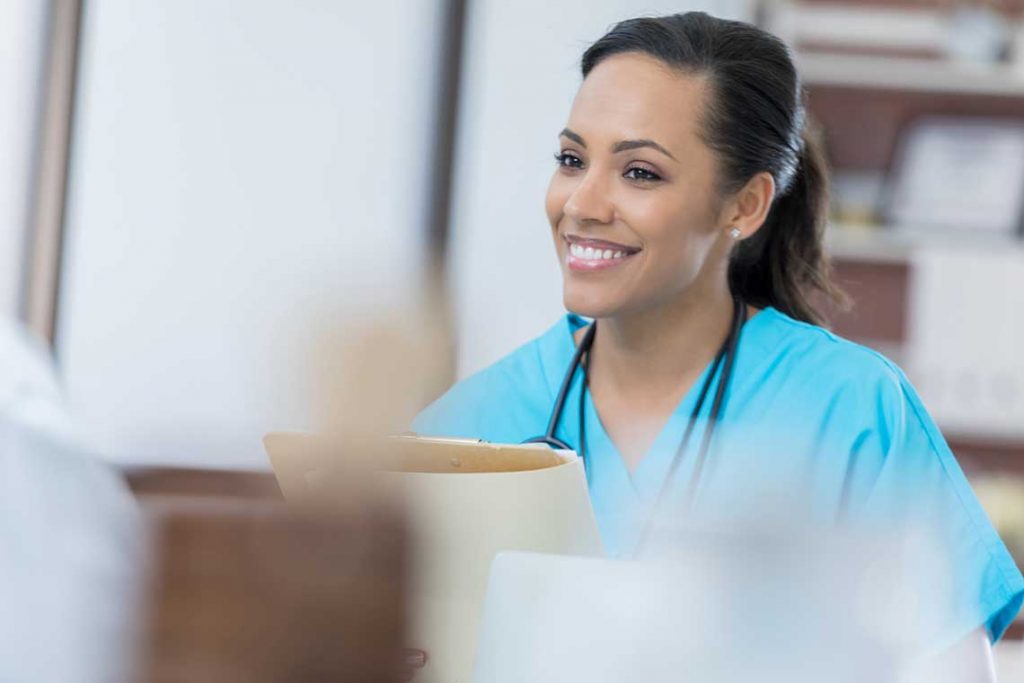 It's always helpful to have a few questions of your own prepared. Your interviewer will leave a few minutes at the end of the interview for you to ask questions. There really aren't any universal rules regarding which questions you should ask, but it's best to research the nursing school and program thoroughly so that you don't ask any questions that are already answered online. Here are some questions you might consider:
How are nursing students supported at your school?
Are there any resources available to students who need extra help?
How would you describe the campus community?
What can I expect from the clinical placements?
Quick Nursing School Interview Tips
Now that you know how to prepare for nursing interview questions, it's time to look at some quick tips for overall interview preparation.
Research the nursing school thoroughly ahead of time. Know the school's mission and values and the general format of the degree program.
Practice your nursing interview questions and answers during a mock interview with a family member or friend.
For an in-person interview, give yourself plenty of time to get there, as there may be unexpected traffic or other delays. Aim to arrive a little early.
Wear business casual attire.
Try to relax and take some deep breaths.
Send a thank you note the next day.
You can prepare for a meaningful career in nursing with the hybrid accelerated Bachelor of Science in nursing program at Harding University. If you have at least 64 non-nursing credits, you may be eligible for enrollment and can graduate with your nursing degree in as few as 16 months. Contact an admissions counselor today to discuss the next steps.