Accelerated Nursing Program in Arkansas
The demand for registered nurses is on the rise, with more patients needing the life-saving care that nurses provide. Now is the perfect time to answer the call; earn your Bachelor of Science in nursing through Harding University's accelerated BSN track!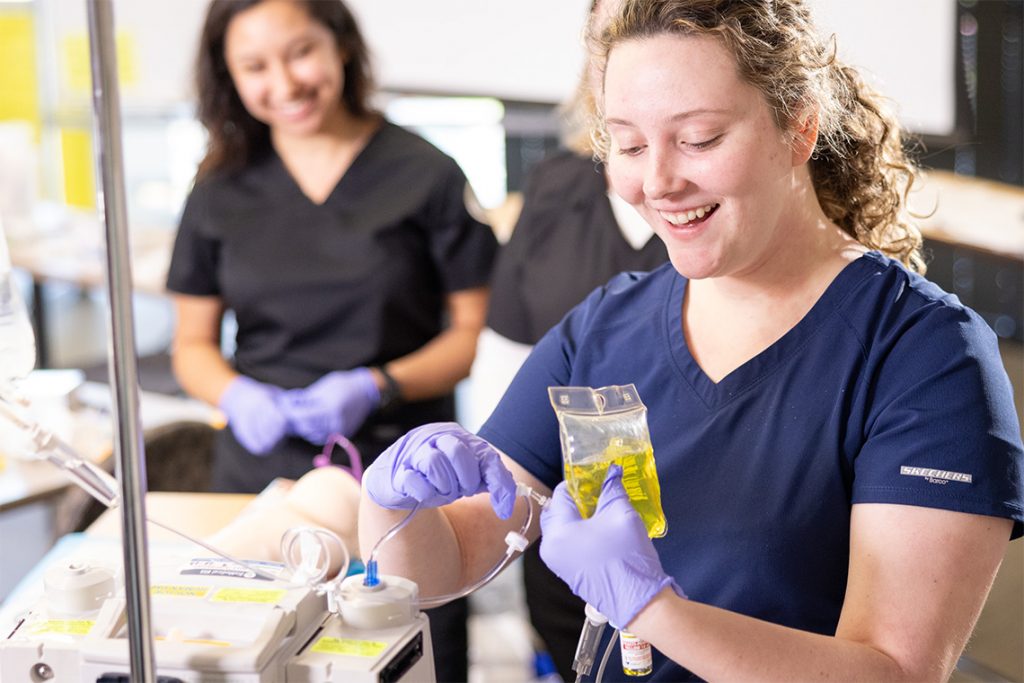 Harding's Carr College of Nursing, Arkansas's No. 1 nursing program, blends online accelerated coursework and hands-on learning in the ABSN track; this puts students on the path to becoming a confident nurse. Harding University's nursing education is based on our Christian heritage, which permeates class and clinical instruction.
As an online ABSN student, you will learn skills with the support of instructors and nursing professionals that will prepare you to become a confident nurse who will lead an extraordinary life of Christian service.
How the Harding ABSN Program Works
Harding University's hybrid accelerated nursing program in Arkansas empowers leveraging any bachelor's degree into a nursing career. Our accelerated BSN program for non-nurses opens the door to earning a Bachelor of Science in nursing in as few as 16 months!
The ABSN curriculum requires unwavering dedication and commitment to achieve success. It also involves a comprehensive hybrid ABSN learning model that consists of three stages — online, hands-on labs and clinical experience.
Together, these three learning components prepare you to take the NCLEX-RN licensure exam; you'll be able to call yourself a nurse and practice the profession in all types of health care settings.
Contact us to learn more about Harding's ABSN program.
Frequently Asked Questions
How long is the program, and when can I start?
Harding's ABSN program can be completed in as few as 16 months. We offer three start dates a year and do not have a waitlist.
Is the program accredited?
Yes, our program maintains state board of nursing approval and Commission on Collegiate Nursing Education (CCNE) accreditation.
Is the program 100% online?
Though our nursing coursework is completed online, our program is not 100% online, as you are required to complete in-person labs at our ABSN learning site and clinical placements in northwest Arkansas.
How does the program prepare me to become a nurse?
Our dynamic curriculum guides you through comprehensive nursing coursework designed to help you confidently take the NCLEX. Through our labs and clinicals, you'll build the skills necessary for becoming a nurse and then test them in a real-world environment.