What Do You Learn in Nursing School?
Each blog post is dated and contains accurate information as of that date. Certain information may have changed since the blog post publication date. If you would like to confirm the current accuracy of blog information, please visit our ABSN overview page or contact admissions at (877) 505-2276.
In nursing school, you'll first learn the basics of nursing theory and build a solid foundation in biology and science. As you progress, you'll learn how to interact with patients, take vitals, keep records, offer wound care and much more.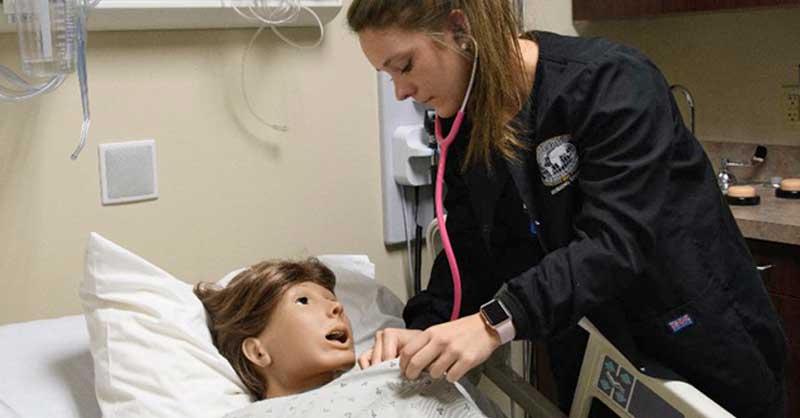 There is a continued demand for registered nurses, and more patients need the lifesaving care that nurses provide. Now is the perfect time to answer the call to nursing and earn your Bachelor of Science in nursing through Harding University's accelerated Bachelor of Science in nursing track.
What do you learn in nursing school? We are glad you asked. Keep reading to find out.
Prerequisites and Nursing Courses
The Harding University ABSN curriculum starts by introducing you to key nursing concepts. Prior to embarking on your ABSN coursework, you'll complete prerequisite courses. Which courses you take will depend on your previous education. Prerequisite courses will set you up with a solid foundation in math, science and English that will help you succeed in your nursing education.
Once you complete the prerequisites and begin nursing school, you'll transition to the ABSN required courses and nursing theory courses, including:
New Testament Survey
Professional Nursing
Health Assessment
Gerontological Nursing
Nursing Practice Interventions
Fundamental Math for Nurses
Introduction to Nursing
Old Testament Survey
Pharmacology & Nursing
Maternity & Women's Health
Psychiatric & Mental Health
Adults/Chronic Health & Rehab Concerns
Christian Faith and Vocation
Pediatric & Child Health Nursing
Nursing Adults with Acute Health Concerns
Community Health Nursing
Research in Nursing
Advanced Medical Surgical Nursing
Nursing Leadership & Management
Nursing Capstone Experience
These online classes each have a comprehensive course curriculum designed to prepare you to step into the nursing field with a strong knowledge of many practice areas.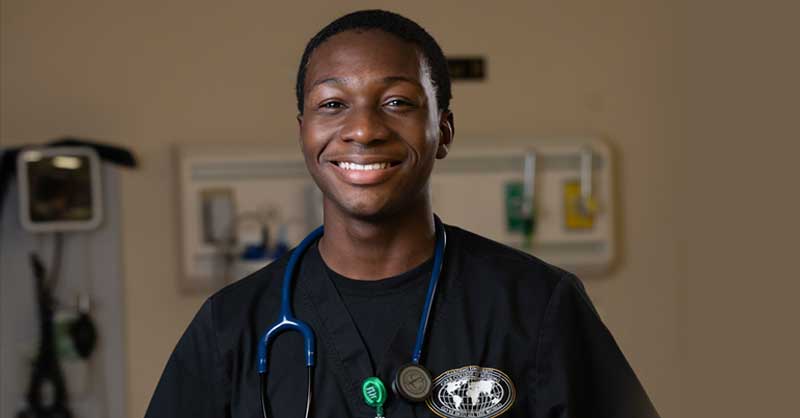 Nursing Skills
While you are learning nursing concepts, you will put that knowledge into action during hands-on skills labs.
You will use modern medical supplies and equipment in our accelerated BSN skills laboratories, which are designed to resemble a hospital atmosphere. Additionally, you will practice on authentic medical manikins, so you will not have to be concerned about hurting a real patient while you are learning.
You will practice nursing skills and apply the theoretical knowledge you gain in the online section of our ABSN curriculum. Some of your tasks in our skills labs include:
Holistic head-to-toe assessment
Nasogastric tube insertion
Blood pressure and heart rate monitoring
Wound care
Catheterization
Alongside your peers in the program, you will hone these skills and more to prepare you for the day-to-day duties of a registered nurse.
Simulation Labs
Simulation labs are the next step in your ABSN education. They will challenge you to respond to changing and sometimes urgent situations.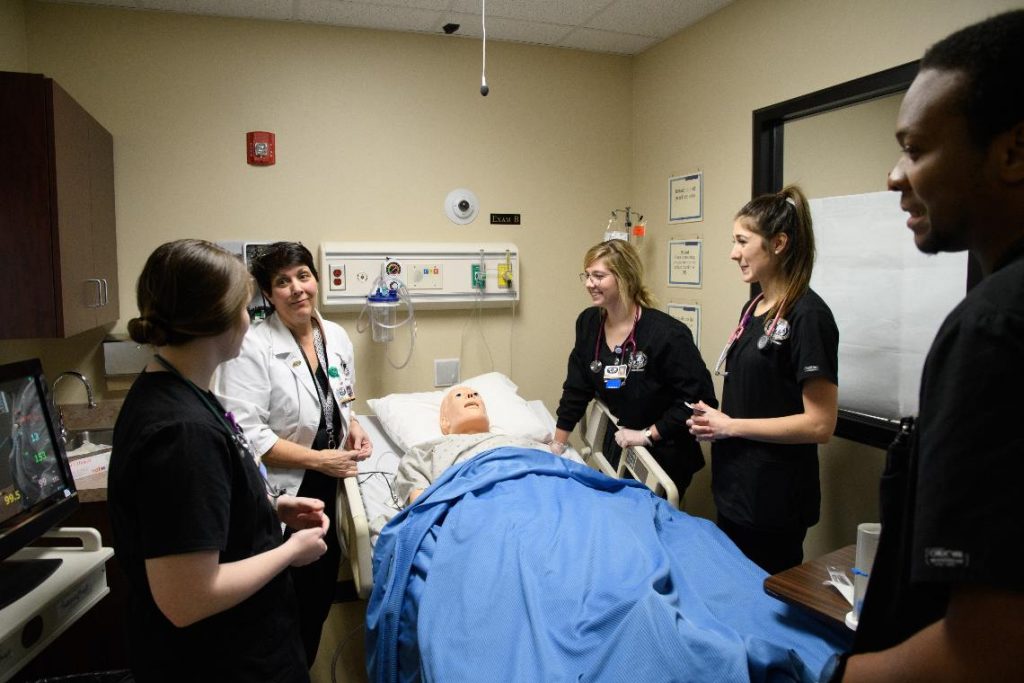 The biggest piece of the simulation lab is mock clinical scenarios, where you will take on the role of a patient, family member, doctor or nurse. Such role-playing will let you step into another person's shoes to gain perspective from all sides of a situation. Communication is vital in nursing, and these exercises will challenge you to do just that.
It is important to remember that while these labs will push you, simulation labs offer a risk-free environment where you should feel comfortable exploring patient care scenarios and even making mistakes.
Following simulation labs, you will debrief with your peers and instructor so you can learn from those mistakes and hone your critical thinking, collaboration and problem-solving skills.
Clinicals: Where You Will Build a Nursing Career
Of course, to be prepared to step into the health care field, you will need to train with real patients. That is where the clinical portion of the Harding ABSN program comes in. Clinical placements are where you will put your skills to the test in a real-world health care environment.
During clinicals, you will get a first-hand look at what it is like to provide exceptional patient care to a variety of patient demographics. Through our 16-month program's accelerated nursing clinicals, you will work with some of the state's top medical professionals in a range of disciplines, including:
Adult health
Community health
Mental health
Obstetrics
Pediatrics
Harding University ABSN clinical placements also give you the great opportunity to find out where you fit in the profession post-graduation.
The clinical setting allows you to "try on" specialties and find the one that interests you most. Undergoing clinicals with top health care professionals will give you a good idea of where you want to work and what work style suits you best.
Our clinical partners include:
Mercy Hospital Northwest
Vantage Point Behavioral Health Hospital
Arkansas Children's Hospital
Clinicals help you discover what makes you passionate about nursing and where you fit into this ever-changing industry. Are you ready to take the next step toward changing lives?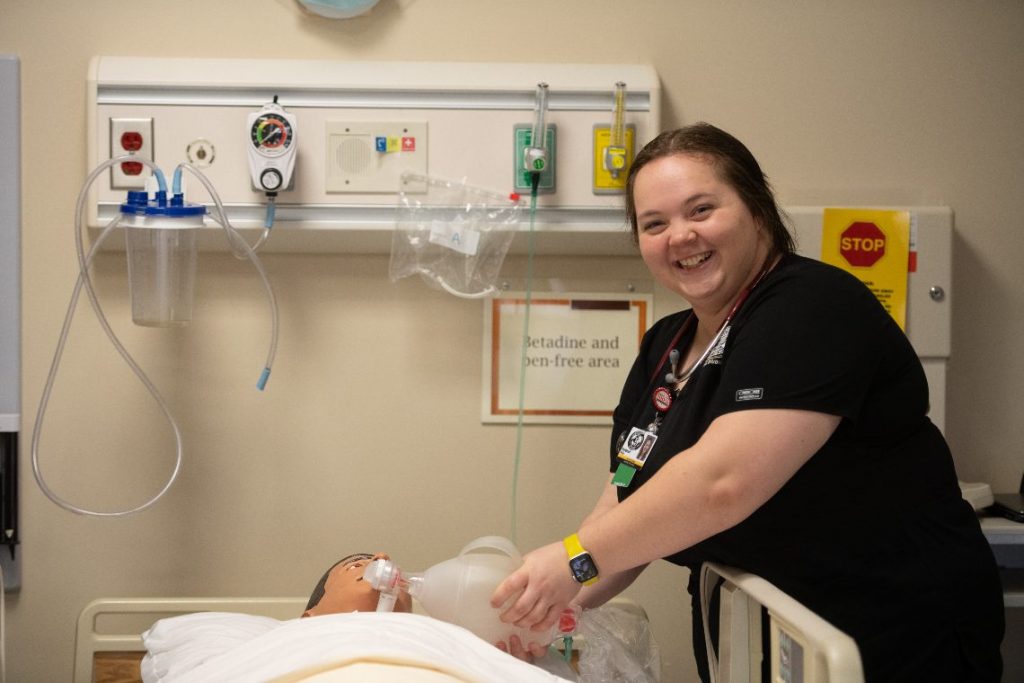 Start Today
Now that you know what you will learn in nursing school, there is no better time to pursue your dream career as a nurse. Contact Harding University's admissions team today and ask about our 16-month ABSN program!